Piosenki po polsku, teksty, tłumaczenia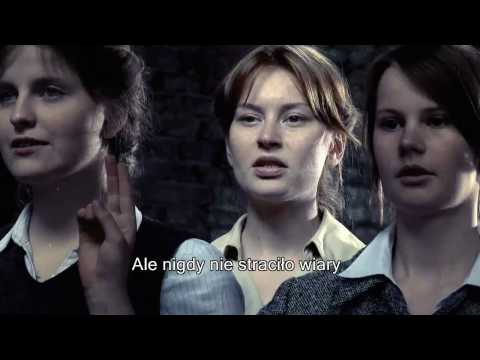 Warsaw Rise!
Do you remember when, when the nazis forced their rule on Poland
1939 and the allies turned away
From the underground rose a hope of freedom as a whisper
City in despair, but they never lost their faith
Women, men and children fight they were dying side by side
2010 , Sabaton , Worms Recon: Duchy w akcji
The dawn of time breaks
See the sun rise to the sky
The wheel of time begins to turn
But then we heard it
A divine voice out of nowhere
Spoke to our hearts and showed the way
Take some "Venom" and "Accept"
That you won't see "Nazareth"
The "Rainbow" leads you home
"Warrior" sent to [milky way]
"UFO" shooting "Gamma Ray"
A "Riot" of "Destruction"
I've had a vision its clear to me now
I know what has to be done
Different religions cannot share a land
A plague and I have the cure
Chase them down,let them suffer in pain
Dig them down, they´ll be gone for a while
Evidence lost
Deadly as the viper
Peering from its coil
The poison there is coming to the boil
Ticking like a time bomb
The fuse is running short
on the verge of snapping if it's caught
Jag ser mig om och ser mitt hem försvinna bort
Min tid där hemma känns nu alldeles för kort
Blott ungdom, knappt en man då plikten kalla mig
Om jag får se mitt hem igen det vet jag ej
Bland fränder från min by, så drog jag ut i strid
Och världen brann
För kriget det kan
Annihilator, breaker of this world
Bring destruction, suffering and pain
Lord of fire, satans number one
Death machine and plague and poison bringer
Turn out the light, I've come for vengeance
In the darkest night, you'll feel my power
Dream destroyer, gazing in the night
Bortom Svea rikes gränser
Hörs ett kall från ovan jord
Följer kristendomens regler
Offensivens man soldat i Jesus namn
För fränder fosterland och konung
Genom elden skall han gå
Opåverkad inför ödet
Döden stod för dörren denna kalla vinternatt
Bragd om livet stod det skrivet när hans öde hann ifatt
Vem skall oss nu leda i en tid som runnit ut
Mist vår kung vår sorg är tung när hans styre tagit slut
Kom skottet från hans egen här tanken tär
Trehundra år och ingen vet hans döds hemlighet
Vid Fraustadt stod den svenska hären inför
En nästintill dubbelt så mänstark motståndare.
Den dagen visade vi världen inte enbar vår
Överlägsenhet i strid utan även
Hur grym människan kan vara i krig.
Fruset land
En köldhärjad här
En tid styrd av mörker och krig
En legend beskriver ett lejon
Den besten tar form av en man
Med en dröm att den skall bli sann
För alla som står i hans väg
Väntar död för han ger ingen nåd
Med en mäktig armé ifrån norr